Announcement
19th Aug 2022 All iOS apps that we were offering has been delisted from the Apple App Store.
A new web based application will be releasing soon to replace the iOS app.
Stay tuned! 😊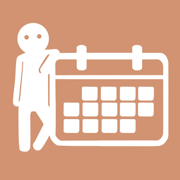 ciysys Roster
Jan 16, 2021 - released version 2.2.
This app is designed for the manager or department head to schedule the working shift for the staff.
Overview
This app can be used by the manager or department head to plan the shift for each staff.
Able to detect if there is any conflict in the schedule. (does not allow to key in another roster entry for the same date, same staff.)
1/3
Allows you to email the weekly roster to the staff after you have keyed in the staff roster.
Able to view the 7 days roster.
Allow adding unlimited staffs.
Allows adding unlimited shifts and each shift can have different color.
2/3
Unlimited roster entries.
This app does not required any Internet connection to work.
The records will be kept in the iPad forever which is good for review or roster audit unless the app is deleted manually.
3/3
Non-Subscription Based
This app is not a monthly subscription-based app. You just have to purchase up front with a one-time fee (i.e. perpetual license) which allows you to use the app forever.
What the app cannot do
This app is developed for single-user and single-device only.
The data will not sync with iCloud.
Device requirements
iPad only.
Must be iOS 13.0 or later.
Screenshots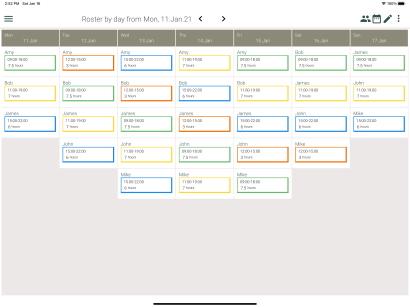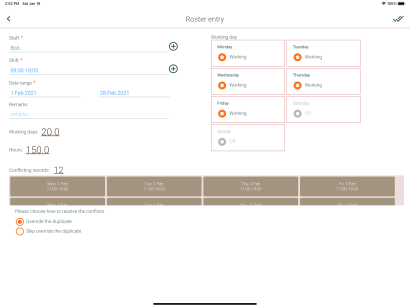 FAQ
Updated on 29th Jan 2021
What are the benefits of a staff roster?
Cost savings as better scheduling can reduce overheads.
Avoid staff being overworked by receiving bad shift combinations.
1/4
Allow the staff to work accordingly and enjoy their free time without any worry.
Higher employee productivity and lower staff turnover.
Increased quality of services.
Reduction in unpunctuality and absenteeism.
2/4
What are the tips of creating a roster that is good for business?
Share schedule options with all staff to avoid a perception of favoritism.
Fill the understaffed or busy shifts with the most experienced and skilled employees.
3/4
Make sure everyone receives two days off to avoid burnout and loss of performance.
Use sales data and timesheet data as a guideline to decide how many staff you need on what day and at what time.
4/4